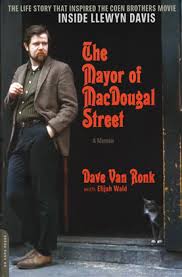 So I want to go and see the Coen Brothers new movie: "Inside Llewyn Davis" and surprisingly my wife does, too. I really don't think she knows that the story is based on Dave Van Ronk's memoirs because I don't think she's a fan of Van Ronk's music! Anyway, until we get to go I thought that I'd like to read the book The Mayor of MacDougal Street first.So I used some of the money from a Barnes & Noble gift card that my daughter-in-law;law's parents gave me for Christmas and bought it the other night. I'm not that far into it yet but I'm loving it already. Van Ronk always has had a flair for telling stories and he puts it to good work in his memoirs!! I'll tell you more about it as I work my way through it. But tonight though my first thoughts were how about I go look up some videos from some of the musicians that populated MacDougal Street back in the day.One of the first names to pop into my head wasn't Dylan, but Fred Neil and then I thought, hell, why not Van Ronk. The first music from Dave that came to mind was a piece that I heard every Sunday night back in the 60s and 70s and that would be the "St. Louis Tickle". I heard it as the Gene Shay Folk Radio Show came in and out of commercial breaks. The song is an old piano rag that Van Ronk transcribed to make it a guitar piece. Here's a good over of the song.
  Yes, that music brings back fond memories, but the question remains; What shall I play. "Green, Green, Rocky Road", "Hesitation Blues"? And then I spied several versions of "St James Infirmary" on the YouTube sidebar, yeah that's it! I had just read today that the song was one of the first songs he learned. He had seen it in a book that his aunt's family kept by their piano
The Fireside Book of Folk Songs.
Dave writes
…and my eyes lit on this song that just totaly blew me away. It was call "St James Infirmary" I had to learn that song . Since my music-reading skills were minimal at best. I put the arm on my upwardly mobile cousin, who was studying piamo at the time, and made him plunk his way through the piece, over and over, intil I had learned the chords and the melody. That became my project for the summer, and it really saved my bacon. By the time I got back to Queens, I was playing the funliest ukulele version of "Saint James Infirmary you ever heard
So here's Dave forty years plus later still singing "St James Infirmary"….
From the About at YouTube:
Dave Van Ronk sings "St. James Infirmary (Gambler's Blues)".   Recorded at the Barns at Wolf Trap in Vienna, Virginia as part of a 1997 concert honoring Harry Smith's Anthology of American Folk Music. This recording is included in the upcoming album "Down in Washington Square: The Smithsonian Folkways Collection."   Called "The Mayor of MacDougal Street," Dave Van Ronk (1936-2002) was a leading figure in the Greenwich Village music scene for more than four decades. His autobiography inspired the upcoming Coen Brothers film Inside Llewyn Davis, which features a performance of "Fare Thee Well (Dink's Song)" in both the film and the soundtrack.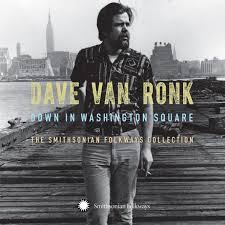 You can read more about Dave and the: New Dave Van Ronk release Down In Washington Square: The Smithsonian Folkways Collection here I can't wait a. to finish the book and b. to see the movie!! .