I was exploring the Alternate Root's Top Fifty Americana Bands this morning, and the band that caught my peaked my interest was The Wild Rumpus. They caught my attention, not only for their name, though I could hear Max from Where the Wild Things Are shouting "Let the Wild Rumpus start" but for the label they put on their music, Appalachian Stompgrass!!" In an interview with the Saturday WV Gazette Mail, band member Allan Sizemore says: "People want to call us bluegrass, but we're not. We have some of the same instrumentation and play some bluegrass, but we're more of a rock n' roll band that throws all kinds of things together, including bluegrass and swing"
From their website:
Hailing from Fayetteville, WV, the Wild Rumpus is an original string band led by singer and songwriter, Andrew Adkins. Forging a sound that has one foot stomping in the past and the other stomping in the present, their debut album "Love, Trains & Home" on WV label Mudbone Records rolls together bluegrass, swing, country, and rock & roll for a style that is uniquely their own. Their influences range from Leonard Cohen to Jimmy Martin and touch everything in between while managing to hold together a sound that is instantly recognizable and will start your legs to dancing on their own. They have been playing shows promoting their summer CD release to rave reviews and the dancing has been spontaneous and instantaneous. More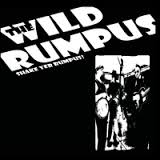 So I listened to their current release Shake Yer Rumpus, this afternoon and sure enough my feet were a-tapping before I knew it ! Tonight, I've been looking around for some biographical information on the band and really haven't found anything. There are three members in the band Andrew Adkins, the main songwriter, vocalist, and mandolin player, Allan Sizemore on guitar and Clint Lewis on upright bass.According to Allan Sizemore in an interview "5 questions with Allan Sizemore of The Wild Rumpus" at WVGazette.com……the band
"….came together late 2006/early 2007. We were all in other bands. Andrew brought this project to me. Actually, it was going to be a solo project for him. "He kind of had this blues band called The Wild Rumpus Together, but it wasn't very serious — and before we even really got started, half of those guys dropped out. But the new band took on a life of its own. We all left our other bands and have been at it ever since."
and from there, their biography at Reverbnation says…..
The Wild Rumpus have spent the last three years introducing the world to Appalachian Stompgrass through hundreds of live shows. Take the mountains, all the influences, whether they be bluegrass, blues, punk, folk or old country and roll them together and you get Appalachian Stompgrass, a breed of music that isn't hung up on a certain label, but one that is forging it's own brand. Appalachian Stompgrass? Yes. Reverbnation Site
So I say check out the Appalachian Stompgrass of The Wild Rumpus….. and "let the Wild Rumpus start!!!!" Here's the band stomping their way through……. "37 Cent Breakdown" –