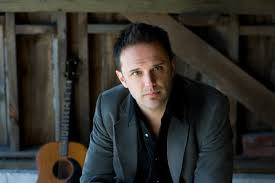 So tonight I was thinking, I would post a song from one of my favorite folksinger songwriters. The first one that popped into my head was John Gorka, thoughts of John were quickly replaced by thoughts of Mark Erelli. I listened to Mark' most recent release Little Vigils the other night and was reminded of what a great songwriter he is. .So  I thought that I'd post a video, maybe of one of my early favorites songs "They do it every day" but there was no Youtube video,for the song. Then I thought "Compass and Companion",but then I spotted this video for his song "Volunteer" on Don Was' My Damn Channel and I listened once again to this powerful song and again was blown away! Here's what Don Was writes:
Mark Erelli is a great singer/songwriter/guitarist from Massachusetts with a masters degree in Molecular Biology. He regularly tours with Iris DeMent, Catie Curtis and Lori McKenna. Music critics have lauded his latest album, Hope and Other Casualties. Regardless of where you fall in the political spectrum, his brand new song, Volunteer, will provoke some consideration
The video was posted in 2007 at Don's channel and while we are still not fighting the war, there are many volunteers,who are still out there fighting their own private wars and fighting the effects of being that volunteer!! So let's go "into the morning" with Mark and "Volunteer"…..