Two of My All-Time Favorites – Phil Ochs and Alvin Lee Born on December 19th
Today we celebrate the birthdays of two of my favorite musicians, Both figured prominently in the early years of my musical listening. First born in 1940 is Phil Ochs, Phil was a big part of my musical listening in the late 60s and early 70s. He wrote about things that were important to me, from the same political point of view, although he may have been a wee bit more radical than me.
Secondly, in 1944 Alvin Lee was born. Alvin and his band was a mainstay on my turntable, I was a big Ten Years After fan. And while I shared their affinity for the blues, I also was a fan of their early music which had a lot of jazz overtone, hell on of my favorite tracks of theirs is Woody Herman's Woodchopper's Ball!
The saddest part of today though is that neither artist is around to celebrate with us! Phil took his life in 1976 after years of mental  health issues that started after his mugging,  while in Dar Es Salaam, and lost the top three notes of his vocal range. The mugging seemed to send him on a downward spiral. His last years were troubled ones. He suffered from manic depression plus an affinity for the bottle. Alvin Lee died  from "unforeseen complications following a routine surgical.procedure" in March of 2013
Phil Ochs ….From Wikipedia:
Philip David "Phil" Ochs (/ˈoʊks/; December 19, 1940 – April 9, 1976) was an American protest singer (or, as he preferred, a topical singer) and songwriter who was known for his sharp wit, sardonic humor, earnest humanism, political activism, insightful and alliterative lyrics, and distinctive voice. He wrote hundreds of songs in the 1960s and released eight albums in his lifetime.

Ochs performed at many political events during the 1960s counterculture era, including anti-Vietnam War and civil rights rallies, student events, and organized labor events over the course of his career, in addition to many concert appearances at such venues as New York City's Town Hall and Carnegie Hall. Politically, Ochs described himself as a "left social democrat" who became an "early revolutionary" after the protests at the 1968 Democratic National Convention in Chicago led to a police riot, which had a profound effect on his state of mind.[1] After years of prolific writing in the 1960s, Ochs's mental stability declined in the 1970s. He eventually succumbed to a number of problems including bipolar disorder and alcoholism, and took his own life in 1976  Full Biography
You can also read more about Phil at his the Phil Ochs homepage, and at his sister Sonny's website. Sonny has worked tirelessly at keeping Phil's music alive over these last 30 plus years!! Phil is one of the many musicians who left us way too early. There have been many times over the last 37 years that I've thought. What Phil would have thought about the current political situation. I can just hear an updating of the Song "Here's to the State of Mississippi" with Eric Candor, John Boehner. (and now Donald Trump) or other right-wing-nuts as the object of his wrath!!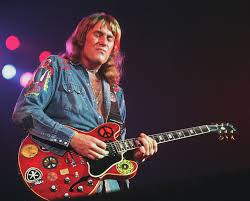 Alvin Lee
Alvin left us a lot of great memories, yes, including "I'm Going Home" at Woodstock" (listen here). Some of the recent albums that he had released prior to his death like Rocket Fuel and Still on the Road to Freedom are pretty damn good!
So what music shall I play from Phil something political nah, I think I'll go with something that he didn't even write. He only put to music to the "The Highwayman" a peom by Alfred Noyes.. and then a Phil Ochs composition "Changes" Here's a video with both and an interview in between.
So Happy Birthday, Phil and Alvin, wherever you are, and thanks for helping set my musical journey on the right road!!