.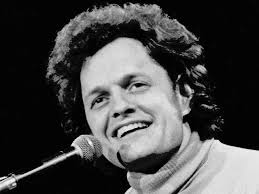 Harry's epitaph is from his song "I Wonder What Would Happen to this World." It is:
Oh if a man tried To take his time on Earth And prove before he died What one man's life could be worth I wonder what would happen to this world
Today we celebrate the 71st anniversary of the birth of Harry Chapin (December 7, 1942) unfortunately as we all know (well at least us boomers) Harry only lived to celebrate 38 of them. His life was cut short on that day in July of 1981. But let's not dwell on how we wished things could have been, rather let's celebrate the music that we loved and remember. From the release of his first album Heads & Tales  released in 1972,on Elektra,.an album that brought us "Harry the taxi driver and his ex-love Sue to Sequel  his final release before for his death, that completed the "circle" and reunited the two! Let's remember all those characters from a sniper, the morning DJ at W*O*L*D, Mr Tanner the cleaner and would be singer, the midnight night watchman at Miller's Tool and Die, and of course Mail Order Annie. Some background on Harry's early life from Wikipedia :
Chapin was born into a middle-class family in New York City, the second of four children who also included future musicians Tom and Steve. His parents were Jeanne Elspeth (née Burke) and Jim Chapin, a legendary percussionist. He had English ancestry, his great-grandparents having immigrated in the late 19th century. His parents divorced in 1950, with Elspeth retaining custody of their four sons, as Jim spent much of his time on the road as a drummer for Big band era acts such as Woody Herman. She married Films in Review magazine editor Henry Hart a few years later. Chapin's maternal grandfather was literary critic Kenneth Burke.[2]   Chapin's first formal introduction to music was while singing in the Brooklyn Boys Choir. It was here that Chapin met "Big" John Wallace, a tenor with a five-octave range, who later became his bassist, backing vocalist, and his straight man onstage. He began performing with his brothers while a teenager, with their father occasionally joining them on drums. Read More
One or more of the times my wife and I saw him in concert, Steve and Tom were performing with him, and it certainly seemed like they were having a good time. And how can we honor and remember Harry without remembering the his fight to end world hunger. Each and every time that the Republicans try to end social services that would take food away from the poor, I think well Harry just rolled over in his grave one more time! And what would Harry think overall about the gap between the top 1% and the rest of us common folks. He certainly would have been lending his support to many of the Occupied camps throughout the country!!. More about Harry's social activism:
In the mid-1970s, Chapin focused on social activism, including raising money to combat hunger in the United States. His daughter Jen said: "He saw hunger and poverty as an insult to America."[6] He co-founded the organization World Hunger Year with radio personality Bill Ayres, before returning to music with On the Road to Kingdom Come. He also released a book of poetry, Looking…Seeing, in 1977. Many of Chapin's concerts were benefit performances (for example, a concert[7] to help save the Landmark Theatre inSyracuse, New York), and sales of his concert merchandise were used to support World Hunger Year. Chapin's social causes at times caused friction among his band members. Chapin donated an estimated third of his paid concerts to charitable causes, often performing alone with his guitar to reduce costs. Mike Rendine accompanied him on bass throughout 1979. One report quotes his widow saying soon after his death — "only with slight exaggeration" — that "Harry was supporting 17 relatives, 14 associations, seven foundations and 82 charities. Harry wasn't interested in saving money. He always said, 'Money is for people,' so he gave it away." Despite his success as a musician, he left little money and it was difficult to maintain the causes for which he raised more than $3 million in the last six years of his life.[8] The Harry Chapin Foundation was the result.
You can check out the Harry Chapin Foundation here, the Harry Chapin Food Bank of Southwest Florida here, Long Island Cares founded by Harry here, and the latest release from his daughter Jen here Now I was going to use Harry's "Taxi" to end this post kinda' like going back to the beginning, you can watch it here…. but after writing the post I could not end with that, no the end just had to be a "Circle" Happy Birthday, Harry and we all still miss you!!!