Lee Morgan – Trumpet  (July 10, 1938 – February 19, 1972) -Philadelphia, PA
2015 Update:I discovered Lee Morgan's music back in 2013. When I wrote the following post I discovered that I hand already heard his magnificent trumpet on many albums! Here is my original post……
So I received one reply to the question I posed this morning – who is your favorite jazz trumpeter and that one was Lee Morgan!! So not knowing that much about Mr Morgan than his name and that he played trumpet I set out to see what I could find out. I quickly found that I have heard Mr Morgan without really knowing it! One bad thing about digital music is that it comes without the liner notes and the alum listing who plays on the album so unless you look it up you don't know who's playing!! That's the case with at least two and probably more albums in my collection. First there's Art Blakey's Moanin' where Lee Morgan provides some great trumpet. And right now I'm listening to  the track "Moment's Notice" from John Coltrane's album Blue Train. I'm sure there are other albums in my collection where Lee Morgan appears. Anyway, let's find out some more and for that we go to Wikipedia:
Edward Lee Morgan was born in Philadelphia on July 10, 1938, the youngest of Otto Ricardo and Nettie Beatrice Morgan's four children. A leading trumpeter and composer, he recorded prolifically from 1956 until a day before his death in February 1972. Originally interested in the vibraphone, he soon showed a growing enthusiasm for the trumpet. Morgan also knew how to play the alto saxophone. On his thirteenth birthday, his sister Ernestine gave him his first trumpet. His primary stylistic influence was Clifford Brown, who gave the teenager a few lessons before he joined the Dizzy GillespieBig Band at 18, and remained a member for a year and a half, until the economic situation forced Dizzy to disband the unit in 1958. He began recording for Blue Note Records in 1956, eventually recording 25 albums as a leader for the company, with more than 250 musicians. He also recorded on the Vee-Jay label and one album for Riverside Records on its short-lived Jazzland subsidiary.   Joining Art Blakey's Jazz Messengers in 1958 further developed his talent as a soloist and composer. He toured with Blakey for a few years, and was featured on numerous albums by the Messengers, including Moanin', which is one of the band's best-known recordings. When Benny Golson left the Jazz Messengers, Morgan persuaded Blakey to hire Wayne Shorter, a young tenor saxophonist, to fill the chair. This version of the Jazz Messengers, including pianist Bobby Timmons and bassist Jymie Merritt, recorded the classic The Freedom Rider album. The drug problems of Morgan and Timmons forced them to leave the band in 1961, and the trumpeter returned to Philadelphia, his hometown. According to Tom Perchard, a Morgan biographer, it was Blakey who introduced the trumpeter to heroin, which impeded his career trajectory. Read More 
Philadelphia,eh – I should know more about an almost hometown boy. Here' more from Jazz.com about Lee's years with the Jazz Messenger's:
Morgans years with the Jazz Messengers were prolific and productive, as he appeared on forty albums at this time, ten as leader
It was Blakey himself who fired Morgan for heroine addiction in April 1961. Soon after, Morgan lost several teeth after drug dealers beat him, an event portrayed in Spike Lee's 1990 film, Mo Better Blues. But unlike the tragic career end to the film's fictional trumpeter, Bleek Gilliam, Lee Morgan would return to the scene for an impressive final act.Read More 
and here's where I learned about Lee and Trane……..
Lee Morgan's rising star soon sided him with John Coltrane, first recording with Johnny Griffin, and then on Coltrane's pivotal album, Blue Train, with a frenzied performance style that came to be known as Hard Bop. One tune in particular, Moment's Notice,casts Morgan's unique style into high relief: it combines Miles's rhythmic mastery with Dizzy's brassy boldness and Clifford's stream of musical consciousness.
Part of the reason that I don't know a lot about Lee Morgan is that his life came to a tragic end in 1972 at the time that my musical listening was just moving into high gear, with mostly rock and folk music leading the way!! From Wikipedia:
Morgan was killed in the early hours of February 19, 1972, at Slug's Saloon, a jazz club in New York City's East Village where his band was performing.[4] Following an altercation between sets, Morgan's common-law wife Helen More (a.k.a. Morgan), shot him. The injuries were not immediately fatal, but the ambulance service was reluctant to go into the neighborhood where the club was located. They took so long to get there that Morgan bled to death. He was 33 years old.[4] According to an eyewitness, Miss More (13 years his senior) walked out of the club just before the last set. She returned and the band was already on stage. Lee was trying to get up there, but was talking with some people. He just started to get up the stage, when she entered and called his name. He turned around and she shot him. She then turned the gun on the club's doorman Ernie Holman, who grabbed her wrist and took the gun away from her. She started to scream, "Baby, what have I done?" and ran to him.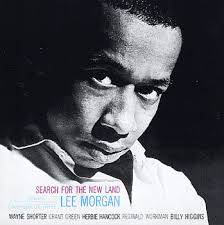 The other night I listened to portions of  The Sidewinder and tonight I decided to listen to Search for the New Land which like The Sidewinder received a five-star review at AllMusic..In his review at AllMusic Scott Yanow writes this about Search for the New Land:
This set (the CD reissue is a duplicate of the original LP) is one of the finest Lee Morgan records. The great trumpeter contributes five challenging compositions ("Search for the New Land," "The Joker," "Mr. Kenyatta," "Melancholee," and "Morgan the Pirate") that deserve to be revived. Morgan, tenor saxophonist Wayne Shorter, guitarist Grant Green, pianist Herbie Hancock, bassist Reggie Workman, and drummer Billy Higgins are all in particularly creative form on the fresh material, and they stretch the boundaries of hard bop (the modern mainstream jazz of the period). The result is a consistently stimulating set that rewards repeated listenings. More
Sources and Links:
Wikipedia: Lee Morgan
Jazz.com:Morgan, Edward Lee
AllMusic: Lee Morgan – Search for the New Land, , Lee Morgan
So after this evening's reading and listening about Lee Morgan he is certainly rising on my list  favorite trumpet players. So let's go "Into the Night" with "Mr Kenyatta" from Search for the New Land
P.S. I just got another comment on a favorite trumpeter and it's off to listen to the music of Clifford Brown!! et you can't wait!!
Related articles