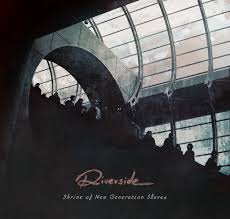 When my son Andrew told me a several years ago that I should listen to more prog rock, one of the  bands I listened to was Riverside from Warsaw, Poland and I really enjoyed their music. Yesterday I  put their 2013 release Shrine of New Generation Slaves on the iPhone and listened briefly and I listened again today and boy I think I like their music more than before!! Here's some quick background from ProgArchives:
Despite not being the biggest progressive rock powerhouse of Europe, Poland have certainly sprouted great and interesting progressive bands since the heyday of progressive rock, being the biggest examples of that the singer and multi-instrumentalist Czeslaw Niemen and the supergroup SBB. After the fall of the communist regime, during the 90's and 2000's, more bands begun to form and release their material, strengthening the country's own progressive rock scene, such as the neo prog bands Abraxas and Collage, and Riverside is, quite possibly, the biggest and best known band to come out from that scene. Riverside was formed almost by accident, when two of its members, the guitarist Piotr Grudziñski and the drummer Piotr Kozieradzki, listened to Marillion in Kozieradzki's car back in 2001. Both played in heavy metal bands at the time, but had the common interest for progressive rock, so they decided to join with their mutual friend, Jacek Melnicki, who owned a studio, and started to experiment with progressive rock. Mariousz Duda, multi-instrumentalist and vocalist from the band Xanadu, joined the trio later that year for rehearsals and the results and reactions from those meetings were extremely positive. After some more rehearsals, and the completion of some compositions by the band, Mariousz started to take the role as both the band's vocalist and bass player.  Continue Reading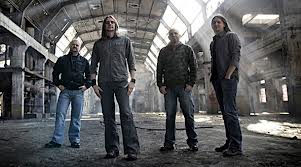 The musician line-up on the album is – Mariusz Duda / vocals, bass – Piotr Grudzinski / guitars – Michal Lapaj / keyboards – Piotr Kozieradzki / drums
The album has a 4.15 rating out of 5 at the ProgArchives and is labeled as an excellent addition to any prog rock collection! with 47% of the rating listing the album as Essential: a masterpiece of progressive rock music! Now the ratings for their 2009 release Anno Domini High Definitionis even higher so I think that album is going on the iPhone tomorrow for listening and further evaluation of this great band. But for tonight let's go "into the Morning" with my favorite track so far "Deprived (Irretrievably Lost Imagination)" …..