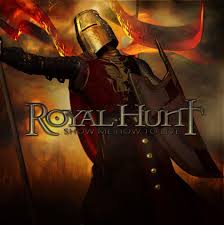 So tonight the soundtrack for the whole 30 minute ride to work and back at Target will be from the Danish progressive rock band, Royal Hunt, Show Me How To Live. the band's 2011 release. Based upon what I've heard so far, I don't think it will be too long before I try to hunt down their latest release….A Life to Die For! Some background for you and me!!
Royal Hunt is a progressive metal band based in Denmark, founded in 1989 by keyboardist Andre Andersen. The band is known for creating melodic music with a progressive and symphonic flair. They made a huge success during mid-90s with vocalist D.C. Cooper on their classic albums Moving Target and Paradox mainly in Japan and Europe. They have experienced several lineup changes throughout their history, in 2007 they acquired singer Mark Boals, who replaced former vocalist John West. In 2011 after numerous requests from fans and promoters worldwide they decided to reunite with their former vocalist D. C. Cooper for a special tour, covering the first four albums of the band. They have since recorded a new album entitled Show Me How to Live featuring the returning D.C. Cooper as their permanent vocalist moving forward. They have sold more than 1 million albums worldwide. Wikipedia
The members of Royal Hunt are: André Andersen – keyboards DC Cooper – vocals Allan Sørensen – drums Andreas Passmark – bass Jonas Larsen – guitars Here's the closing track of the album "Angel's Gone" I figured, I might as well listen to it now since my trip is so short I may not get to hear it on the ride!!