So this morning the first name that I saw on the list was "Brother" Jack McDuff", who was born on this date in 1926. It wasn't until the third site that I checked in the morning that I read the following"
Jack McDuff… with his trio, which over the years featured guitarists like Kenny Burrell, Grant Green, and George Benson, McDuff made many of the first so-called "acid jazz" recordings.
Woo Hoo!…. a jazz organist that worked with three guitar great!!! I have to check him out. So I headed over to Wikipedia and found this:
"Brother" Jack McDuff (September 17, 1926 – January 23, 2001) was an American jazz organist and organ trio bandleader who was most prominent during the hard bop and soul jazz era of the 1960s, often performing with an organ trio…..

McDuff recorded many classic albums on Prestige including his debut solo Brother Jack in 1960, The Honeydripper (1961), with tenor saxophonist Jimmy Forrest and guitarist Grant Green,[2] and Brother Jack Meets The Boss (1962), featuring Gene Ammons, and Screamin' (1962).

After his tenure at Prestige, McDuff joined the Atlantic Records label[1] for a brief period and then in the 70s recorded for Blue Note. To Seek a New Home (1970) was recorded in England with a line-up featuring blues shouter Jimmy Witherspoon and some of Britain's top jazz musicians of the day, including Terry Smith on guitar and Dick Morrissey on tenor sax.

The decreasing interest in jazz and blues during the late 70s and 1980s meant that many jazz musicians went through a lean time and it wasn't until the late 1980s, with The Re-Entry, recorded for the Muse label in 1988, that McDuff once again began a successful period of recordings, initially for Muse, then on the Concord Jazz label from 1991.[1] George Benson appeared on his mentor's 1992 Colour Me Blue album Read More
Then I went to AllMusic where I read that "Brother Jack" was:
….a marvelous bandleader and organist as well as capable arranger, "Brother" Jack McDuff has one of the funkiest, most soulful styles of all time on the Hammond B-3. His rock-solid basslines and blues-drenched solos are balanced by clever, almost pianistic melodies and interesting progressions and phrase..
So I thought have to check him out, and I did this afternoon: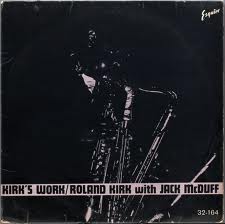 I checked out his organ on Rashaan Roland Kirsk's album…Kirk's Work (RVG Remaster) and they were masterful… while I knew Kirk's name I've never listened to his music – MISTAKE!! Both of the artist were great……. again from AllMusic….
Kirk's Work — Rahsaan Roland Kirk's third long-player — teams him up with organist "Brother" Jack McDuff for Kirk's most soulful post-bop set to date. His unorthodox performance style incorporates the polyphonies of a tenor sax, flute, manzello, and stritch Continue Reading
So Happy Birthday, "Brother: Jack" I" wish you were still here with us!!
Here's a video of Jack with George Benson sitting in…. recorded in Philly!!