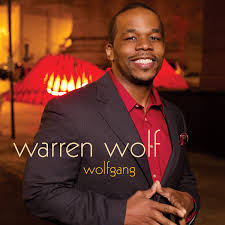 Over the last few days I've been listening to several new albums from several different genres. A new jazz album from vibraphonist Warren Wolf Wolfgang, an Americana album from a new supergroup Willie Sugarcapps, and a new bluegrass album from two artists that have been around a while and seem to be getting better with age Ricky Skaggs and Bruce Hornsby Live. These three albums were released this week and have joined my music rotation quickly, They've joined another album that's been in the rotation for over a week now. The new album from jazz-blues guitarist Jeff Golub and organist Brian Auger Train Keeps A Rolling. Willie Supercapps was the only album of the four that didn't get listened to yesterday. Warren Wolf was listened to early in the day, while I was working, Ricky and Bruce joined mne on my way to and from a wetland site in Medford and finally Jeff and Brian's music was heard, as I ran some errands. So let's take them one at a time in the order I listened to them yesterday,
The first album that I listened to was the sophomore album from vibraphonist Warren Wolf, Wolfgang. If you've read this blog before you know that many of my favorite jazz artists play vibes. The list includes: Milt Jackson, Gary Burton, Stefon Harris and others. Warren Wolf has certainly joined that group.. Wolfgang is a fine album made up of nine tunes (six of which are originals) From his Mack Avenue Artist page.
 Wolfgang spotlights Wolf taking a different, more laid-back take than his volcanic eponymous debut album on Mack Avenue. "The last record was a means of introducing myself as a leader," says the 33-year-old Baltimore-based vibraphonist. "This time I set out to showcase my writing skills with compositions that have melodies people can remember.
From his biography at his website:
Wolf is a multi instrumentalist who plays… He,s been playing since he was three years old. He.attended the Peabody Prepatory for eight years studying classical music with former Baltimore Symphony Orchestra member Leo LePage. During his high school years at the Baltimore School for the Arts, Warren studied with current Baltimore Symphony Orchestra member John Locke. After graduating from Baltimore School for the Arts in June of 1997, Warren headed north and enrolled at the Berklee College of Music in Boston,MA…
After many years of studying and then teaching at Berklee, Wolf returned to his Baltimore who to become a full-time musician and boy has he kept busy….
Warren is currently the drummer of choice for Alto Saxophonist Tia Fuller, who tours with internationally renowned pop star Beyonce Knowles. Warren is also a member of the Donal Fox Group which includes bassist John Lockwood and drummers Dafnis Preito and Terri Lyne Carrington. Also, Warren tour and perform with Bobby Watson's "Live and Learn" Sextet, Karriem Riggins "Virtuoso Experience" and Christian McBride & "Inside Straight". With these three groups Warren has traveled the world. Warren has performed throughout the United States of America, South America, Canada, Italy, Spain, Amsterdam, Rotterdam, Scotland, London, Greece, Singapore, Thailand, Jarkata, Bangkok, Tokyo, Paris, Moscow and many other countries.
Christian McBride who has employed Wolf since 2007 in the Inside Straight band,
….used to introduce Wolf as "the Cyborg," in affectionate tribute to his head-shaking—but never robotic—feats of instrumental derring-do. "You can't hear Warren and not be highly impressed," he says. "Give him some music to learn, he pretty much has it committed to memory in a matter of minutes. In a couple of days, he has it on the piano. Then suddenly, he's internalizing every part of the music—the melody, the chord changes, the song's overall personality." You're listening to him, thinking, 'Yeah, that's what I had in mind.
Musicians that Warren has played with or recorded with are Wynton Marsalis and The Lincoln Center Jazz Orchestra, Jeremy Pelt and "Creation", Nicholas Payton, Tim Warfield, Adonis Rose, Donal Fox, Anthony Wonsey, Aaron Goldberg, Cyrus Chestnut, Lewis Nash, Willie Jones, Eric Reed, Mulgrew Miller, Terri Lyne Carrington, Yoron Israel, Larry Willis, David "Fathead" Newman, Stefon Harris, Reuben Rogers, Kevin Eubanks, Curtis Lundy, Steve Davis, Duane Eubanks, Ron Carter, Wycliffe Gordon, Robert Glasper, Esperanza Spaulding and many others.
So if you love good jazz check him out! Until then let's go "into the night" with Warren Wolf Quintet at Dizzy's Club Coca-Cola…..