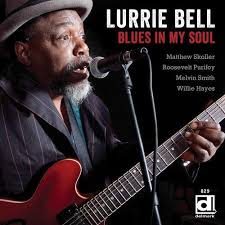 This morning I gave part of Lurrie Bell's new album  Blues in My Soul a first listen and it's a keeper! Bell, the son of renowned blues harmonica player, Carey Bell, is a top-flight guitar player and blues man. The Boston Blues News says:
If there is a Chicago Blues child who perhaps epitomizes the blues life, it's Lurrie Bell…the premier guitarist in the Windy City."
Lurrie's 2007 release Let's Talk About Love has been called his most accomplished, deeply heartfelt album, and his work on the album was rewarded when he was voted Most Outstanding Guitar Player in the 2007 Living Blues Magazine's Critic's Poll. In 2008 and 2012 he was named the magazine's Male Blues Artist of the Year. Since 2007 he has received multiple Blues Music Award nominations as Best Guitarist and Best Traditional Male Blues Artist by the Blues Foundation.
So we have established that the man is good!! David Whiteis of the Chicago Reader calls Bell's music
An incendiary fusion of Chicago Blues boilerplate and his own mercurial imagination, hyperkinetic energy, and dazzling technical dexterity."
The only Lurrie Bell album in my music library is Rosa's and Lurrie's Home, which was released in 2007 on the Delmark label. On the album Lurrie plays with his father and soon after the album's release, Carey died, making the album Carey's last.
After Bell's last two strong releases, which were about stretching and showcase the breadth and the magnitude of his talent, Blues in My Soul is a return to Lurrie's solid foundation of Chicago-styled traditional guitar blues, done with his rare blend of reverence, involvement and individuality and framed largely by his working band.
So check it out! This may be another album on my best of 2013 list! So let's go "Into the Morning" with the title track of the album "Blues in My Soul"……please excuse any grammatical and spelling errors or anything that just doesn't make sense, because this 62-year-old man is a tired camper tonight after a long, hard day at Target…. have I told you I hate working Sundays!