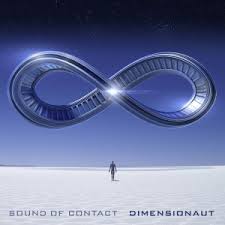 So the other day, I wrote that Andrew told me that, along with The Winery Dogs, I should listen to Sound of Contact, and not to read about the band until after I listen. So I did as instructed and about mid-way through the album, the band started to remind me of Genesis. After listening , and enjoying the album I went to read about the band and I found out the reason that they sounded a like Genesis was their drummer…. his name is Simon Collins, yup he's Phil's son!!
Collins has released three solo albums but he always wanted to form a band. Through the years, as he was recording and performing his own music, he was also keeping contact  with a group  of musicians with whom he had a strong connection and chemistry. So finally this year, the band became a reality when  "Sound of Contact" was formed. In addition to Simon, the band includes co-producer/co-writer/keyboardist Dave Kerzner (Sonic Reality, Kevin Gilbert) and co-writer/guitarist/bassist Matt Dorsey.  Also helping out are some great co-writers and musicians including guitarist/bassist Kelly Nordstrom and guest vocalist Hannah Stobart (Rocket Moth, Wishing Tree).
The album  is titled Dimensionaut and  is according to the band's website:
"a concept album about a dimensional time and space traveler who is on a mission to expand the boundaries of the human experience. The album features a wide range of styles and dynamics from dark and mysterious progressive rock to nostalgic classic rock to high energy alternative to sci-fi film score-infused "space rock".
After the second instrumental "Cosmic Distance Ladder", I thought the album became a little popish sounding, and I'll emphasize a little because there was still a strong prog tinge to the band's music. Songs like "Pale Blue Dot" and "Remote View", "Not Coming Down" and "Beyond Illumination" are great tunes.The album ends though with a great 16 minute plus opus "Mobius Slip" which shows that the progressive rock label certainly fits the band!!
I certainly think that this is one of those albums that grows on you with each listen! I've listened to some of the tracks several times and I hear something new each time and like the album a little more! So check them out!
So here's "Cosmic Distant Ladder" I always have to go with the instrumental!!