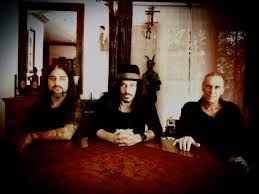 So two of my all-time favorite power trios, (guitar, bass and drums) are Cream (Jack Bruce, Ginger Baker and Eric Clapton) and The Jimi Hendrix Experience (Hendrix, Noel Redding(bass) and Mitch Mitchell (drums)). Saturday, Andrew told me to be on the look out for a new power trio, The Winery Dogs, composed of the ubiquitous drummer from Dream Theater, Mike Portnoy, guitarist Richie Kotzen, and bass player Billy Sheehan from Mr. Big. He says the advance press from the youtube videos that are on-line is pretty good!
The Winery Dogs' self-produced album is set for release on on Jul 23rd on Loud & Proud Records. and the band will kick off a tour of Japan on July 16.  Jay Ruston, who has  worked with Anthrax and others mixed the album. From an article at Ultimate Classic Rock:
…Portnoy, in a band statement, said the new group should shine a well-deserved light on Kotzen — whom the drummer said "is such an unbelievable talent, as a vocalist, guitarist and songwriter. I think The Winery Dogs will finally get him the attention and recognition that he so richly deserves." Full Story
So let's go "Into The Night" with the Official Video for the song "Elevate" from The Winery Dogs…They sound pretty good to me!