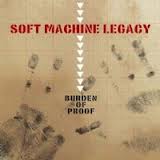 So tonight I visited the Jazz Music Archives to see what was new. What I found were some old friends. The second review I saw was for the latest release from Soft Machine Legacy, Burden of Proof. Hum, way back in 1970 or so I was a fan for at least one album of The Soft Machine having bought and played many times, their album Third. Anyway I was interested in finding out who Soft Machine Legacy were what I found out was that the original line-up for the band only lasted through 1971 when Robert Wyatt left the band, after that several members revolved in and out of the band through their last studio album, Land of Cockayne released in 1981. Since then many live recordings have been released. In 2002, four former Soft Machine members – Hugh Hopper, Elton Dean, John Marshall and Allan Holdsworth – toured and recorded under the name Soft Works (initially called Soft Ware, debuting at the 2002 Progman Cometh Festival).
In 2004 John Etheridge replaced Holdsworth, and the band toured and recorded as Soft Machine Legacy.They've released three albums: Live in Zaandam (2005), the studio album Soft Machine Legacy (2006) and Live at the New Morning (2006). Although Elton Dean died in February 2006, the band has continued with British saxophonist and flautist Theo Travis (formerly of Gong and The Tangent).

In December 2006, the new line-up recorded the album Steam in 2009, after Hugh Hopper's death, the band announced that it would continue with Roy Babbington once again stepping into the role formerly held by Hopper In February 2013, founding Soft Machine bassist Kevin Ayers died, aged
Also in 2013 the band released new studio album Burden of Proof. In an early 2013 interview, Travis said that, "Legally we could actually be called Soft Machine but for various reasons it was decided to be one step removed." And that gets us back to the new album that I listened to tonight, which was great. Here's a quote that pretty much sums it up!
"Burden of Proof is, to put it mildly, absolutely exquisite. These are four musicians who are masters of their craft, and truly at the top of their game, not only as soloists but as contributors in an actual band. They've put together here a collection of songs that basically has something for everyone; challenging jazz-fusion, adventurous prog-rock, bits of chaotic free-jazz, atmospheric instrumental pop-jazz, and even a little hard rock. Extraordinary!" 5 stars . Pete Pardo Sea Of Tranquility.org
Here's the original review by kev rowland at the Jazz Music Archvies:
The Softs are back with their first studio album since the passing of Hugh Hopper in 2008, as incredibly it is six years since the release of 'Steam'. The line-up is John Etheridge (electric guitar), Roy Babbington (bass), John Marshall (drums and percussion) and Theo Travis (tenor sax, flute, piano), which has to make it one of the longest serving line-ups in the extremely long history of the band (either as The Soft Machine, Soft Machine, The Softs, or Soft Machine Legacy). They may have been going down this furrow of jazz-fusion for more than thirty years, but they still don't show any sign at all of slowing down or running out of ideas. A special mention must go to Andrew Tulloch who mixed and mastered this album as the sound is incredible, allowing every touch and nuance to shine through. Continue Reading
The album has a 4.02 rating out of 5, at the Prog Archives!
Here's the band performing "The Nodder" a song that appears on the band's 1978 release Alive & Well