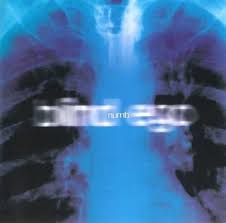 So I this morning I listened again to the album Numb from the German group Blind Ego and I liked it as much this time as I did the several previous times I listened! So I was surprised when I went to ProgArchves and saw a rating in the low 3s (3.12). To me, and I know I am just a neophyte when it comes to Prog Rock, the album has everything – good musicianship and vocals, and lots of tempo changes keep me interested in the music! The band is a side project for RPWL guitarist Karlheinz "Kalle" Wallner. (note to self find out who the hell RPWL is!) Here's some information on the band from the ProgArchives:
The band assembled for this project is a prog super group. He takes on RPWL bandmate Yogi Lang as a musician and producer, but he is credited as a guest, instead of a full member of the band. Tommy Eberhardt (from Legazy and Beatfreaks) plays drums, John Jowitt (from IQ and Arena) plays bass, and the vocals are split between John Mitchell (It Bites, Arena, The Urbane, and Kino) and Paul Wrightson (from Arena). Kalle states that John was best for the more "rock like" songs, while Paul was better for the more emotional numbers. There is another guest of note on this album too. While recording Wrigtson's vocals, Clive Nolan also added his own backing vocals. I think there is a new law that states, Clive Nolan must be included in all Neo collaborations of the new millennium. For the live lineup, Rwin Reider replaces Eberhardt on drums, Wrightson takes the vocals alone, and Yogi Lang becomes full member on keyboards.
Of the bands listed, of which the musicians on this album are a part of, the only one that I've listened to is Arena and I enjoyed their album! So the others listed may give me some bands to explore!!
Even though the overall rating was low over 50% of the raters gave the album four stars, which equates to the album being an excellent addition to any prog rock collection!!
Here's the title track from the album "Numb". What do you think???