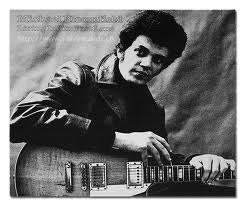 So yesterday February 15th back in 1981, the music world lost one of its greatest guitarist to heroin addiction, when Michael Bloomfield died. While Bloomfield started with The Paul Butterfield Blues Band. I didn't discover his music until The Electric Flag album "A Long Time Comin' The album quickly became a favorite and Bloomfield's guitar artistry was a big reason. I followed his career through his work with Al Kooper and the Super Session Album and then The Live Adventures of Mike Bloomfield and Al Kooper. I didn't discover his later solo work until the late 90s early 2000s. Here's some background info from Wikipedia:
Michael Bernard "Mike" Bloomfield (July 28, 1943 – February 15, 1981) was an American musician, guitarist, and composer, born in Chicago, Illinois, who became one of the first popular music superstars of the 1960s to earn his reputation almost entirely on his instrumental prowess, since he rarely sang before 1969–70. Respected for his fluid guitar playing, Bloomfield knew and played with many of Chicago's blues legends even before he achieved his own fame, and was one of the primary influences on the mid-to-late 1960s revival of classic Chicago and other styles of blues music. In 2003 he was ranked at number 22 on Rolling Stone's "100 Greatest Guitarists of All Time"
Bloomfield also made an impact through his work with Al Kooper, with whom he had played with Stephen Stills, on the album Super Session in 1968. The direct impetus for the record, according to Kooper, was the twosome's having been part of Grape Jam, an improvisational addendum to Moby Grape's Wow earlier in the year.

"Why not do an entire jam album together?" Kooper remembered in 1998, writing the booklet notes for the Bloomfield anthology Don't Say That I Ain't Your Man: Essential Blues, 1964-1969. "At the time, most jazz albums were made using this modus operandi: pick a leader or two co-leaders, hire appropriate sidemen, pick some tunes, make some up and record an entire album on the fly in one or two days. Why not try and legitimize rock by adhering to these standards? In addition, as a fan, I was dissatisfied with Bloomfield's recorded studio output up until then. It seemed that his studio work was inhibited and reigned in, compared to his incendiary live performances. Could I put him in a studio setting where he could feel free to just burn like he did in live performances?"

The result was Super Session, a jam album that spotlighted Bloomfield's guitar skills on one side; Bloomfield's chronic insomnia caused him to repair to his San Francisco home, prompting Kooper to invite Stephen Stills to complete the album. It received excellent reviews and became the best-selling album of Bloomfield's career; its success led to a live sequel, The Live Adventures of Mike Bloomfield and Al Kooper, recorded over three nights at Fillmore West in September 1968.
The exact events and circumstances that led to his death are not clear. What is known is that Bloomfield was found dead of a drug overdose in his car on February 15, 1981.[5] The only details (from unnamed sources) relate that Bloomfield died at a San Francisco party, and was driven to another location in the city by two men who were present at the party. His tombstone is in the Hillside Memorial Park, Culver City, near Los Angeles, California, U.S.A. Full Article
You can check out more at the website Michael Bloomfield: Celebrating the Life an Music of a Great American Musician
But for now let's have some morning music from The Electric Flag and one of my all-time favorites the classic – "Killing Floor"