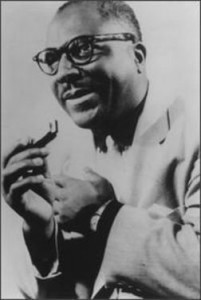 So today is the 101st birthday of one of my favorite acoustic blues musicians Sonny Terry. Sonny was born in Greensboro, North Carolina and started his blues career playing in the trio of Blind Boy Fuller. He played with Fuller until Fuller's death in 1941. After Fuller died Terry began playing with Brownie McGhee and as they say the rest is folk history!!
Saunders Terrell, better known as Sonny Terry (24 October 1911 – 11 March 1986[2]) was a blind American Piedmont blues musician.[1] He was widely known for his energetic blues harmonica style, which frequently included vocal whoops and hollers, and imitations of trains and fox hunts.

Terry died from natural causes at Mineola, New York, in March 1986, the year he was inducted into the Blues Hall of Fame
I have The Best of Brownie McGhee and Sonny Terry on the iPod with for me classic tracks like "Walk On", "Down by the Riverside",  "Blues from the Lowland" and "Blowin' The Fuses" ! Boy, what a great blues harp player!  So here's some morning music from Brownie and Birthday Boy Sonny Terry!