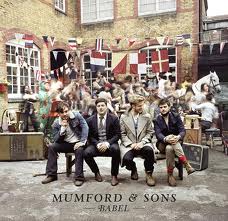 So this morning let's look forward and backward, as we listen to a song that appears on both Jerry Douglas' latest release Traveler,which is included in my music library  and the new Mumford and Sons album Babel, which alas doe not, but maybe it will, who knows? Oh, the song is Paul Simon's "The Boxer" From Wikipedia:
 "The Boxer" is a folk rock ballad written by Paul Simon in 1968 and first recorded by Simon & Garfunkel. It was released as the follow-up single to their number one hit "Mrs. Robinson", and reached #7 in the US charts. It later appeared on their last studio album, Bridge Over Troubled Water, along with its B-side "Baby Driver". It is particularly known for its plaintive refrain, in which the singer sings the tune as 'lie-la-lie', accompanied by a heavily-reverbed drum (work of Hal Blaine), and the memorable guitar finger-picking by Simon and guitarist Fred Carter, Jr.. Rolling Stone ranked the song #105 on their list of the 500 Greatest Songs of All Time.
and something that I didn't know about the song:
"Missing" verse

"The Boxer" was originally written with a verse that is not present in the Bridge Over Troubled Water version:

Now the years are rolling by me
They are rockin' evenly
I am older than I once was
And younger than I'll be and that's not unusual.
No it isn't strange
After changes upon changes
We are more or less the same
After changes we are more or less the same

This "missing" verse was performed by Simon & Garfunkel when they went on tour in November 1969 (this version of the song is included on the Live 1969 album), and Paul Simon when he performed it solo after the group's breakup. Simon & Garfunkel also performed the "missing verse" on Saturday Night Live in 1975[7] and when they reunited for The Concert in Central Park in 1981, and on Late Show with David Letterman.