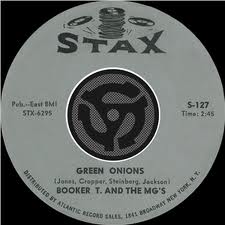 So today fifty years ago in 1962 Booker T. and the MGs released one of my favorite instrumentals of all time "Green Onions". I love the cover on The Live Adventures of Mike Bloomfield and Al Kooper. I was originally going to post Booker T's version but when I went to youtube I saw this cover of the song performed by Roy Buchanan. I was never a big Buchanan fan, he's probably a victim of too much music too little time! So here's some background on Roy from Wikipedia.
Roy Buchanan (September 23, 1939 – August 14, 1988) was an American guitarist and blues musician. A pioneer of the Telecaster sound

Although not mentioned on the Rolling Stone list "100 Greatest Guitarists of all Time," Guitar Player praised him as one of the "50 Greatest Tones of all Time."
I reviewed a list of 50 Greatest Tones of all Time  from Guitarist magazine and didn't see Roy listed on that list, but I did see two of the guitarist listed who he influenced Gary Moore and Jeff Beck. From Wikipedia:
Buchanan has influenced many guitarists, including Gary Moore,[19] Danny Gatton, and Jeff Beck; Beck dedicated his version of "Cause We've Ended As Lovers" from Blow by Blow to him. His work is said to "stretch the limits of the electric guitar," and he is praised for "his subtlety of tone and the breadth of his knowledge, from the blackest of blues to moaning R&B and clean, concise, bone-deep rock 'n' roll."
For more information you can go to Dedicated To Roy Buchanan and his, 1953 Fender® Telecaster® "Nancy" Presented by DON MARE PICKUPS: Home or ALLMusic. I must say after listening to this cover I really need to go back and check out some of those early albums!!