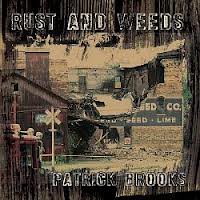 So this afternoon I listened to three really good folk albums by artist that I found last night on the Euro-Americana Charts. They were: Patrick Brooks: Rust and Weeds, Darryl Holder Crooked Hearts, Johan Örjansson Melancholic Melodies For Broken Times.  Of the three on the first listen I liked Patrick Brooks album the best. Brooks is a native of Ohio now in Austin and sings songs about, well the loses of the Rust Belt While got his musical start from his Dad these days he says… "I listen to the troubadours of the past and present: Townes, Guy Clark, Slaid Cleaves, Mary Gauthier, Woody, Peter Case etc., and hope that I'm doing our tribe justice"  and I think he does! Here's the first track on the album "Another Cigarette"
Darryl Holder was born and raised in Minnesota and now calls LA home, Crooked Hearts is his third album and here's what it says about the album at his website:
 The Crooked Hearts disc finds Darryl Holter with a Grammy-nominated producer, Ben Wendel, who completely understands his music. There are eight fantastic original songs, plus five very well-chosen cover versions. The backing band are perfect, with special mention needed for steel guitar player, Greg Leisz and piano/organ player Matt Rollins. Darryl Holter is also joined on two tracks (3 and 7), by his daughter, singer Julia Shammas Holter, who releases CDs of obsessively beautiful songs.
Here's "Living on the Edge"  from his first self-titled album. Fits in perfectly with the music of Patrick Brooks!!
The final album was
Melancholic Melodies For Broken Times
 from Swedish singer-songwriter
Johan Örjansson
. This one really got a fast listen but I liked it and will be listening some more this week! Currently the album is No. 11 on the
Euro-Americana Chart
 and the only abum of the three to be in the top 25! Here's   "If I Were To Love You" featuring Israel Nash Gripka (whose album I've been listening to also).
So which one should I pay a little closer attention to??