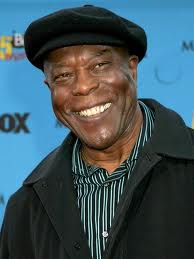 So today is the birthday of one of the Blues Legends George "Buddy" Guy was born July 30, 1936. Now for some reason I never got into Guy's music until the last few years but his 2010 release Living Proof was of of my favorites that year. I guess I was too busy listening to the guys he influenced like Eric Clapton, Jimi Hendrix and Stevie Ray Vaughan. From Wikipedia: Buddy Guy
In the 1960s Guy was a member of Muddy Waters' band and as a house guitarist at Chess Records. He can be heard on Howlin' Wolf's 'Killing Floor' and Koko Taylor's 'Wang Dang Doodle' as well as on his own Chess sides and the fine series of records he made with harmonica player Junior Wells
and the rest of his career is legendary and along the way he has won:
…. six Grammy Awards both for his work on his electric and acoustic guitars, and for contemporary and traditional forms of blues music. In 2003, he was awarded the National Medal of Arts. This medal is awarded by the President of the United States of America to those who have made extraordinary contributions to the creation, growth and support in the arts in the United States. By 2004, Guy had also earned 23 W.C. Handy Awards (more than any other artist has received), Billboard magazine's The Century Award (Guy was its second recipient) for distinguished artistic achievement, and the title of Greatest Living Electric Blues Guitarist.
and been ranked 30th in Rolling Stone magazine's list of the "100 Greatest Guitarists of All Time"
So Happy Birthday, Buddy Guy thanks for everything you've done for the world of Blues!!
Here's Buddy Guy, Jeff Beck, Gary Clark Jr., and Mick Jagger as they perform "Five Long Years" at In Performance at the White House: Red, White & Blues. Hosted by President and Mrs. Obama. Great Stuff!