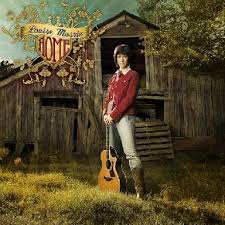 Sometimes, like the gathering of the elements that make the perfect storm, the music, the lyrics, the vocals all come together to create songs and an album that just "blows you away". That happened to me this morning when I listened to the new CD Home by Louise Mosrie. When I heard that opening dobro and the images of Home painted by a talented songwriter, blessed with a great voice, I knew I was going to like this album! Any doubt of my liking the album was erased when the lyrics on the second song  included "in the Indian summer heat John Prine playing on the radio"! The song "God Lives in Arkansas" goes on to paint a vivid picture of Arkansas complete with Rebel flags and sweet peaches. Louise can do something that I love in music and that is create a "sense of place" vividly painting people and places so well that they become  real to the listener and she does it well on songs like "Backroads", "Blackberry Winter"  and "Tennessee". She also creates the bleak life of a miner in the song "Battle of Blair Mountain" with the haunting lyric "find a vein and drain the black gold, hoping to God that the timbers hold, like my father before me, I only live to harvest the coal"
While Louise writes well about people and places,  she also writes and sings well about life and love. One of my favorite tracks on the CD is "Don't Come Looking for Me". The lyrics on this cut about a former lover's return are just outstanding! The track starts with "a thousand miles, 20 odd years, two failed marriages, three grown kids and you're dragging those heavy bags back east, but don't come looking for me" and the lyrical images created in the rest of the song are just as great!
Louise was born in Delaware of British parents ho moved to the US in the 1960's. She grew up in Tennessee. And began writing pop/folk songs in her twenty's and produced two independent records before moving to Nashville in 2004. In 2009 she won the Kerrville new folk songwriting competition! Like I said I loved everything about this album particularly the musical arrangements done to perfection to create just the right mood for each song. Some of the best musicians in Nashville appear on the album including: Byron House on bass , Scott Neubert on guitar/dobro/mandolin/lap steel/banjo (who is outstanding on the album!, Matt Combs on fiddle, Steve Cirkvencic on electric guitar and Tom Ball on harmonica. If I had to pick someone I thought she sounded like I would pick Erica Wheeler, who I think can create that same "sense pf place"
Before this morning I had never heard Louise's music, I found her name on the Folk DJ chart of February airplay heard the first song and was hooked. So go listen to this CD. (listen to mp3 clips at her website here ) and you don't have to believe just me take it from someone who  knows a thing or two about music, Lloyd Maines from Louise's website:
"Excellent, great songs and your singing is really good and soulful." – Lloyd Maines, Grammy award-winning producer, musician and songwriter.
Here's Louise performing "God Lives in Arkansas"
httpv://www.youtube.com/watch?v=yvJxie5pKJk