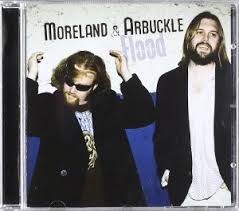 Because I listen to so much new music, I rarely take the time to listen to some of the stuff that I've discovered and really like, like this album  from Moreland & Arbuckle…….
So, I was on the No Depression website the other day and on the sidebar was an advertisement for a new CD  Flood by Moreland and Arbuckle, it looked interesting so I headed over to emusic.com and searched for the CD and found it and downloaded several of the songs and all I can say is WOW! Mississippi Delta Blues at its finest! The trio consists of leaders Aaron Moreland on guitars, Dustin Arbuckle on harp and vocals and drummer Brad Horner. You can read the band's bio at their website. While they are from Wichita, Kansas they live in the Mississippi delta in spirit. Their songs and playing are great! Moreland plays Telecaster and Les Paul guitars and a Cigar Box guitar consisting of four strings, one of which goes to a bass amp and the other three to a guitar amp. This guitar really adds to the great original sound of the group. Dustin Arbuckle's vocals are top notch but his harp playing is extraordinary and would make his heroes Little Walter and Sonny Boy Williamson proud. His playing takes the band to another level for me.   Flood is their first release on Telarc records a part of the Concord Music Group.   Previously they

have released three self-produced albums Caney Valley Blues in 2005, Floyd's Market in 2006 and 1861 in 2008.  I listened to Caney Valley Blues yesterday also and again that rich Delta Blues sound was there!   I plan on listening to 1861 this afternoon and I'm sure I won't be disappointed, color me a fan! So check them out!
httpv://www.youtube.com/watch?v=EFN0HXiQRzs